AWAITING STOCK
Price:
Kawai's latest CN series digital pianos provide a realistic full-sized keyboard, beautiful grand piano sounds, and headphone jacks that allow silent practise at any time of the day. These affordable instruments also offer a variety of inspiring features suitable for everyone in the family, and have attractive cabinet designs that will complement any room. The new CN series from Kawai – experience music, together.
Combining the class-leading Responsive Hammer III keyboard action and stunning SK-EX, SK-5, and EX grand piano sounds, with a powerful Onkyo 4 speaker delivery system, convenient USB audio features, Bluetooth® connectivity, and a broad selection of sounds, the CN39 delivers impressive specifications at an unbeatable price.
HIGHLIGHTS
■  Class-leading Responsive Hammer III keyboard action
■  Ivory Touch key surfaces, triple sensor, let-off, counterweights
■  Progressive Harmonic Imaging sound with 88-key sampling
■  Shigeru Kawai SK-EX & Kawai EX concert grand piano sounds
■  Powerful four speaker delivery system developed by Onkyo
■  Integrated Bluetooth® MIDI and Audio wireless technology
■  MP3/WAV/SMF playback, record, and overdub to USB
■  Built-in classical etudes and Alfred lesson books
■  Spatial Headphone Sound for enhanced depth and realism
■  Attractive cabinet with cheekblock control panel and OLED display
The Touch of a Grand Piano: Responsive Hammer III keyboard action
The CN39's class-leading Responsive Hammer III keyboard action recreates the supreme touch of an acoustic grand piano, with its realistic movement and rigid, springless design providing a smooth and natural piano playing experience.  The instrument's triple-sensor key detection system enhances responsiveness and accuracy, while structural reinforcements throughout the action assembly help to minimise noise and key wobble during staccato and fortissimo passages.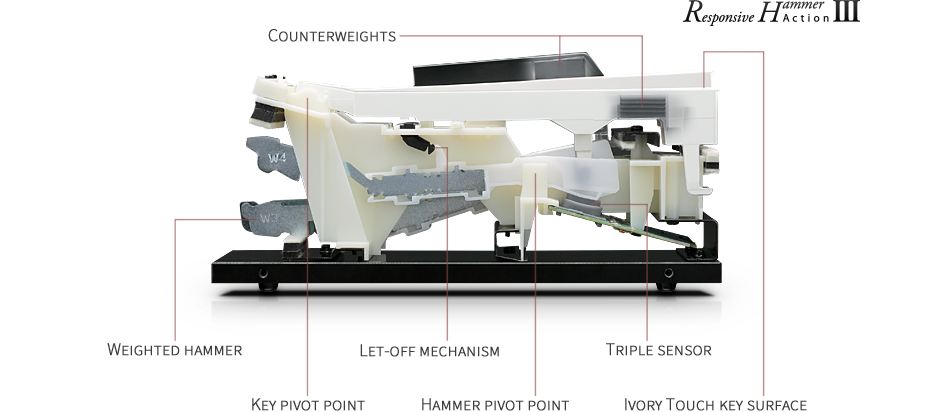 The weight of the keyboard is appropriately graded to mirror the heavier bass hammers and lighter treble hammers of an acoustic piano, while let-off simulation recreates the subtle 'notch' sensation felt when softly playing the keys of a grand piano.  These important characteristics allow discerning pianists to practise their expanding repertoire with confidence, and ensure that there are no unpleasant surprises when called upon to perform using the finest acoustic grand pianos.
Authentic 88-key Counterweights
In addition to grade-weighted hammers, the Responsive Hammer III keyboard action also features counterweights embedded within each black and white key.
As with an acoustic piano, these finely balanced weights help to lighten the touch of the keyboard during pianissimo passages, while adding a feel of greater substance when playing with force.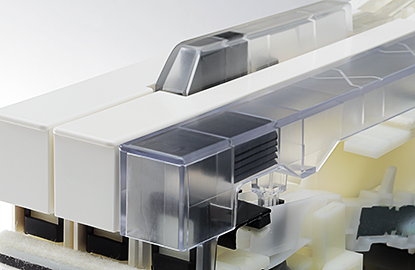 Triple sensor key detection
The Responsive Hammer III keyboard action utilises an accurate triple-sensor key detection system for enhanced playing realism.
The added third sensor improves responsiveness when playing the same key repeatedly, and unlike conventional two sensor keyboard actions found in many digital pianos, allows the sound of a single note to be gradually 'layered' without the previous tone being lost.
In addition, Kawai's action technology also monitors the speed at which each key is lifted, influencing the release character of piano sounds, and providing a greater range of expression between staccato and legato playing.
Ivory Touch key surfaces
The impressive CN39 features Kawai's highly regarded Ivory Touch key surfaces as standard.  This finely textured material gently absorbs fingertip perspiration and oils to assist playing control, and possesses a natural, matte finish that is smooth but not slippery.
Furthermore, this moisture is absorbed without dirt or grease permeating the surface, allowing the keytops to be wiped clean easily using just a damp cloth.
Let-off Simulation
As the most authentic digital piano keyboard action in its class, Responsive Hammer III even reproduces the 'let-off' characteristic of acoustic piano actions. This subtle 'notch' sensation can be felt when playing the keys of a grand piano very gently, and may be used by experienced pianists to aid control when playing pianissimo passages.
SOUND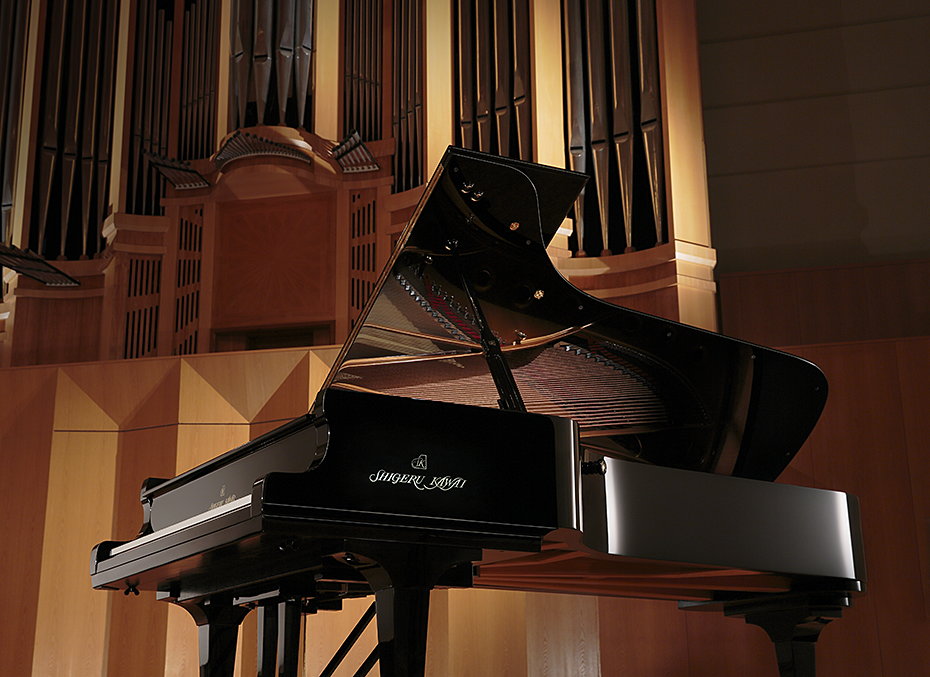 The Sound of a Grand Piano: Two world-class instruments
Earning a reputation as the 'premier pianos of Japan', Shigeru Kawai instruments grace the stages of concert halls and musical institutions throughout the world, and are prized for their outstanding tonal clarity and exceptional dynamic range.
The CN39 captures the magnificent tone of the flagship Shigeru Kawai SK-EX concert grand piano.  This peerless instrument is hand-built by Master Piano Artisans at the Shigeru Kawai Piano Research Laboratory in Ryuyo, Japan, and widely regarded as one of the finest instruments in its class.
In addition, the CN39 also features the distinctive sound of Kawai's highly acclaimed EX concert grand piano, which has been selected by professional pianists in such prestigious events as the Chopin, Tchaikovsky, and Rubinstein international piano competitions, among others.
Both the SK-EX and EX are faithfully reproduced with full 88-key sampling using advanced Harmonic Imaging™ sound technology, to establish a new standard in digital piano tonal quality, and allow musicians to appreciate the contrasting properties of each.
Full 88-key stereo piano sampling
The rich, expressive sound of the SK-EX and EX concert grand pianos is at the heart of the CN39, with all eighty-eight keys of these world-class instruments painstakingly recorded, meticulously analysed, and accurately reproduced as high-fidelity digital waveforms.
Recording each key individually in this way – as opposed to stretching the same tone over several different notes – preserves the grand pianos' unique harmonic character, and guarantees that the sound heard when playing any one of the CN39's weighted keys is a faithful representation of the original acoustic source.
Harmonic Imaging technology
When playing a fine piano, the amount of pressure applied to the keyboard affects not only the volume of the sound produced, but also the unique tonal character of each note.  Therefore, in order to construct a realistic acoustic portrait of each grand piano, not only is each key recorded individually, but also at a wide variety of different volumes, ranging from gentle pianissimo to thunderous fortissimo.
The CN39 offers a highly detailed acoustic portrait, employing Kawai's proprietary Progressive Harmonic Imaging sampling technology to ensure smooth tonal transitions across the keyboard and throughout the entire dynamic range.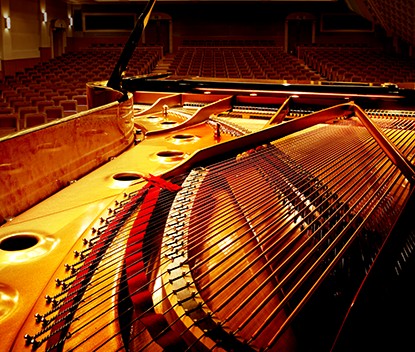 Personalised piano adjustments
The knowledge and skill of an experienced piano technician is essential to bring out the best of a fine acoustic piano. In addition to tuning each note, the technician also performs numerous regulation and voicing adjustments that allow the instrument to truly sing.
The CN39's powerful Virtual Technician function simulates these refinements digitally, allowing discerning musicians to shape aspects of the selected piano's character to suit their personal preferences.
Perform touch weight and voicing adjustments, regulate hammer and key release noises, and fine-tune string, damper, and cabinet resonances.  It is even possible to adjust the precise tuning, volume, and character of individual notes – all in real-time.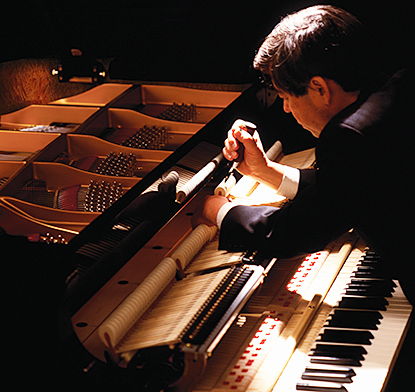 SPECIFICATION
Keyboard
Action: Responsive Hammer III
Key Material: Plastic
Key Surface: Ivory Touch
Let-off simulation: Yes
Sensors: 3
Velocity Curves: Light 1/2/3/4, Normal, Heavy 1/2/3/4, Off (Constant), User Touch Curve
Key Lid: Yes (Sliding Type)
Sound Source
Sound Source: Progressive Harmonic, 88 Key Sampling
Sounds: 355 incl. Drum Sets, GM2 compatible
Polyphony: max. 256 notes
Virtual Technician: 20 Parameters
Keyboard Modes:Dual, Split (incl. Volume/Balance), 4Hands
Reverb: Room, Lounge, Small Hall, Live Hall, Concert Hall, Cathedral
Effects: Mono Delay, Ping Delay, Triple Delay, Chorus, Classic Chorus, Ensemble, Tremolo, Classic Tremolo, Vibrato Tremolo, Tremolo+Amp, Auto Pan, Classic Auto Pan, Auto Pan+Amp, Phaser+Auto Pan, Phaser, Classic Phaser, Phaser+Amp, Phaser+Chorus, Rotary (1 6)
Tuning: 10 Temperaments
Music/Recording
Metronome/Beats: 10 Beats + 100 Rhythms, Tempo and Volume adjustable
Recorder: 10 songs, 2 tracks – max. 90.000 notes; 16 track songs with USB memory installed
Lesson Function: Songs from Alfred, Burgmüller, Czerny, Beyer, and Bach lesson books.
Concert Magic Songs: 88
Demo Songs: 31
Features
Display: 128 x 64 Pixel OLED
Bluetooth: Bluetooth (Ver. 4.0; GATT compatible), Bluetooth Low Energy MIDI Specification compliant
Registrations: Yes, 16 Memories
USB Functions: Playback: MP3, WAV, SMF ; Recording: MP3, WAV ; Funktions: Audio Overdub, Converting Song to Audio, Internal Songs load, Internal Songs save, SMF Song save, Registration load, Registration save, File delete, USB format
Other Features: Dual/Split/Four Hands, Metronome (with 100 rhythms), SHS Mode, Bluetooth MIDI, Bluetooth Audio
Sound System
Sound System: 13 cm x 2 Bass speaker, 8×12 cm x 2 Treble speaker
Amplifier: 2 x 20W
Power Consumption: 18W
Construction
Pedals: Grand Feel System with Sustain (Half-Pedal), Sostenuto and Soft
Music Rack: Extra large, adjustable
Jacks: MIDI (IN/OUT), USB (to Host + to Device), LINE IN (L / MONO, R), LINE OUT (L / MONO, R), Kopfhörer x 2 (1/4″ and 1/8″ Stereo jacks)
Finish: Satin Black
Dimensions
Height in cm: 88
Width in cm: 145
Depth in cm: 44
Weight in kg: 54.0